when you count you begin with 1, 2, 3...
when you sing you begin with do, re, mi!
sound of music anyone?
(liz - i hope you are reading this. i just made you smile really big didn't i?)
let's discuss some things you've probably already noticed and added together.
(ps - if you are in a reader click on over and see... so you won't be scratching your head wondering what we are talking about!)
first of all - my blog got a little makeover. no doubt you can probably see why...
i'm pregnant!
(surprise?!)
yes indeed - i peed on a stick on november fifth and whoopsiedaisy - two pink lines showed up. pretty quickly too.
so i guess now you are wondering what the sound of music has to do with my uterus. well not much, except that i knew i wanted to start blogging again to document the pregnancy (and hopefully all that comes after) and didn't know where to start. (ahhhhh - yes i see the head nods and light bulbs flickering!)
i wasn't shocked at all by the positive test - i had a pretty sneaking suspicion i was
knocked up
with child. i had all the classic symptoms - most apparent were complete physical exhaustion and my boobs hurt like crazy. chris wasn't even allowed to look at them for a while.
our tiny tot's first ever photo. ever. (this is so going in the senior slide show)
they tell me that this is a baby. that somehow, this little static-y blob on the screen will grow into a real, live, human, complete with kicking legs and screaming lungs and that i will just love it forever and ever. i'm still a bit skeptical.
i know i will love this baby and that my brain and heart will eventually get in line together and work it all out, but so far i haven't had much of a maternal instinct kick in. don't worry - i will get there.
(that is me talking to myself, not you guys...)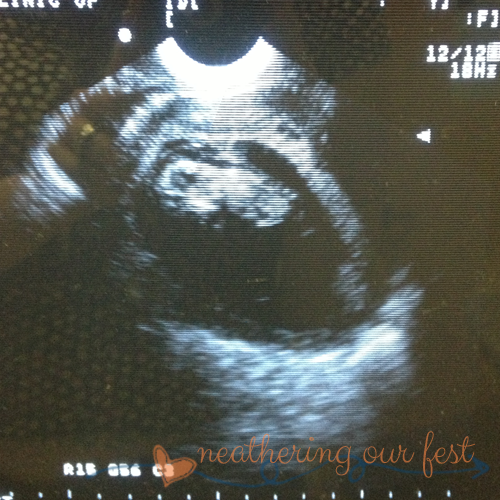 the second photo of our child - looks a little less like an egg yolk and more like a tad pole to me.
i count myself pretty lucky so far...
i'm out of my first trimester (13 weeks and 6 days) and i didn't have any morning sickness. i don't like to talk about this too much because i know people who've lost almost 20 pounds in their first trimester and i know how miserable they were. so that is a huge blessing.
i've gotten to have two sonograms already! i don't think that is normal either. but i didn't have an OB when i found out i was pregnant. i went to see my gyno, she did a quick sonogram to to confirm the pregnancy (and that there was only one - hallelujah!) and she referred me to my OB who also wanted to take a look at the bebe. so whoopie! two sonos already! plus i really needed the physical evidence myself. both times.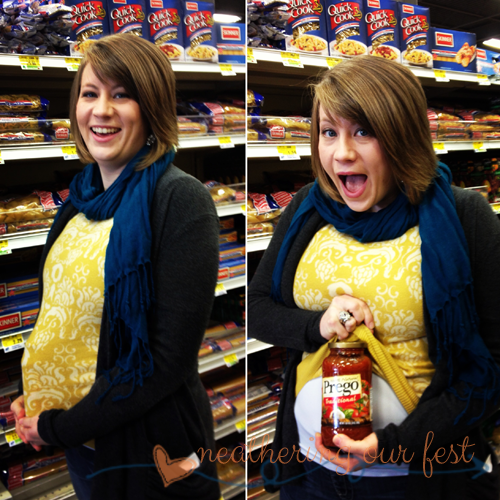 the facebook/instagram announcement picture. i've always wanted to announce a pregnancy this way. (yep - i'm a dork)
this child is barely the size of a lime and even if i can't woo myself into loving it, it already has about 15 grandmas, grampies, papas, auntie nanas, aunties, unclies, tias, and cousins. i think the bebe is set for life.
i bought this to be a diaper bag but the more i look at it, the more i'm convinced that momma just needs to keep it for herself.
so anywho - the baby is due july 11th. everyone mark your calendars. we aren't finding out the sex of the baby because my mom always said that hearing "it's a _____" was the best surprise she could have ever had. so until the little booger gets here, we are calling it Poke.
i'm excited to start my blog back up and share with everyone what all is going on in my heart, brain, and home to get ready for Poke's big arrival. do you think a parade is too much to plan in honor of a newborn? ;)
oh, and mostly because i'm still stoked about it, i rewarded myself for working my tail off last year with this beauty. it was a bit of a thrill to get it and see "mclain family planner" on the front.
the mclains are a family now. welcome to the journey!