(this post can also be titled, "honey can you come take some awkward pictures of me on the back porch please?)
have you jumped on the stitch fix bandwagon yet? if not you are missing out! i was a little skeptical at first - i don't really love to shop because clothes just fit me weird. I am short and curvy, and this pregnancy so far has only made my tatas and hips bigger which doesn't help with being able to find clothes that fit me comfortably.
the great thing about stitch fix though is you are able to completely customize your shipments to what you want to try out. so i stuck with tops and dresses and away from pants since that is where i seem to have the most problems. i didn't want to waste an article of clothing on a pair of pants when i could have found a great top!
one other thing i didn't really think about when filling out my profile was the fact that by the time i would receive the clothes, my growing bustline would really change the way tops fit me too. so i signed up for all large tops, which usually works well for me, but it turns out i should have probably asked for extra large instead.
so... i really liked everything i got but
nothing
fit me correctly! they were all really tight in the shoulders and chest area (duh) so i was pretty bummed that i had to send it all back. however - trying on clothes in my own home, and pairing them with items i already owned and being able to see if they would really fit in my wardrobe, was a lot of fun! chris enjoyed the fashion show too! :) so let's get to the pictures! :)
this black tunic with the gold detailing was my favorite item in the shipment for sure. i've been wanting a sheer top and i love the way it fit around my middle - if it fit around my shoulders i could have worn it through my second trimester for sure. but, alas, i couldn't even lift my arms in it without fear of ripping the back. :(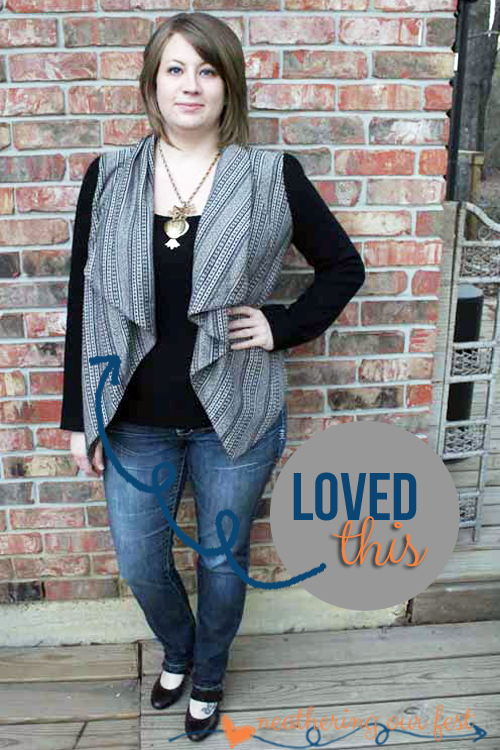 i LOVED this flowy cardigan! it is different from anything else i have in my closet (i'm not one to jump all over a print and mostly stick with solids) so it was fun to try something different! however, it was also so tight through my shoulders there was no way it would have been comfortable long term. back in the box it went!
i really loved the idea of this dress. it has all these trendy notes in it (the hi/lo hemline, the peter pan color, the bright jewel tone) and had it fit correctly (i sound like a broken record) i would have definitely stuck it in my closet! but, again, back to stitch fix it went. more sad faces.
overall - i really enjoyed playing dress up and trying new and different styles - things i would have never picked for myself! i'm definitely changing my profile and trying some different things in my next fix!
stitch fix details: for $20, a stylist will put together a few items for you to try out (based on a really extensive profile) and ship them to your doorstep. they even include ideas on what to pair the clothes with and how to accessorize them. it is really stylish shopping for dummies - perfect for people like me with no style whatsoever or busy moms who need a quick pick me up! :) if you like something, the $20 styling fee goes towards the items price! or if you want to keep everything, you get a great 25% discount off! (in my shipment that would have saved me close to $150!)
wanna give it a try?
click here and sign up
! they are still in beta mode but i got my invite within a couple of weeks and my first fix quickly after that! what do you have to lose? i say you should go shopping ;)
post contains referral links. i get a teensy credit if you sign up, that is all!