catch up on this whole cardboard box diet
here
!
so i'm going to reveal one of my big secrets, time savers, and calorie savers.
i've done this before in the past but i started it again with a new dedication when i started tracking my calories and workouts with the other girls participating in the cardboard box diet.
every sunday night i fix myself a huge bowl of salad. then i eat it for lunch every day. i got the idea from
can you stay for dinner
, who did a great post on
creating a 400-calorie salad
every day for lunch. it makes my mornings a snap to fix a lunch plus i can get really creative with my toppings and still stay within that 300-400 calorie range.
i cut up one big head of romaine lettuce (that is my personal favorite, but you could get creative and add any kind of greens you like), dice two stalks of celery, slice up some button mushrooms, mince a red onion, chunk up a cucumber, and add some shredded carrot. i mix it up in one huge lidded bowl, lay a paper towel over the top to collect moisture and then stick the whole shebang in the fridge. it usually lasts about a week (it gets a little iffy by the next saturday evening) but i can get five lunches and a couple of small dinner side salads out of it.
the best part is getting creative with the toppings! here are some combos i've done in the past:
blueberries + feta cheese + grilled chicken
feta cheese + southwestern chicken + tortilla strips + creamy bacon dressing
shredded BBQ chicken + cheddar cheese + tortilla strips + rotel + cholulas + ranch
grilled chicken + tortilla strips + rotel tomatoes
grilled chicken, feta and avocado
here are a couple of tips and secrets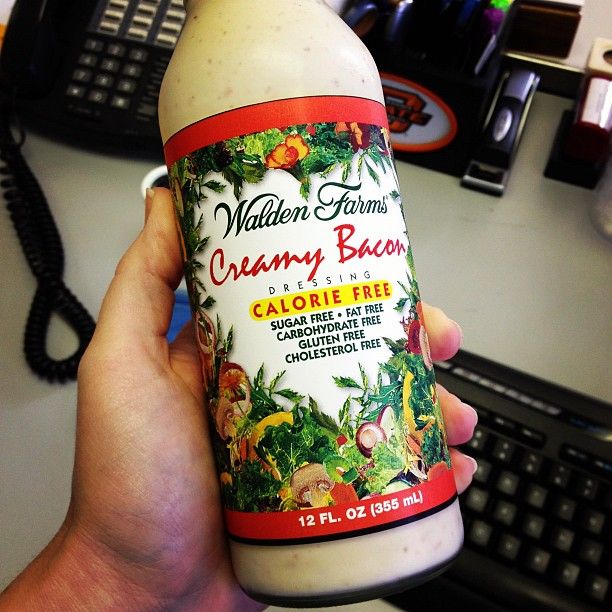 - invest in several bottles of
walden farms calorie free dressing
. they have so many flavors and seriously - for calorie free they are pretty darn tasty! my favorites are creamy bacon and ranch but i see a TON of flavors on their site i'd like to try!
- try new stuff - i use 1/4 of an avocado and a serving of light sour cream as dressing on a southwestern salad. or squeeze some lime juice and honey over a salad with asian chicken and almonds. the point is to mix it up so the salads never get boring. everyone hates boring food.
- replace the paper towel on your salad about twice a week. once it starts to get damp i chunk it and replace it with a dry one. it helps keep the lettuce fresh and crispy.
- load that salad up with all kinds of veggies - snap peas, radishes, bell peppers, tomatoes - anything your heart desires. they are super filling with little impact on your caloric intake.
- don't be afraid to add fruit - the sweet of the fruit can add a great balance to a spicy salad or a tangy vinegar based dressing.
- add crunch and extra texture with
rothbury farms fat free croutons
, dry roasted peanuts or almonds, a few raisins, or southwestern tortilla strips. just be sure to stick to the serving size (no guesstimating) to keep the calories in check.
okay so let's hear it - what salad combination are you going to try out?