cardboard box diet - week one
today i'm going to talk about my jiggly parts. if that sort of thing isn't really your cup of tea, then feel free to go on about your day. i promise - no hard feelings. but if you'd like to hear about them, along with my thoughts on my body and my health, then i invite you to stick around.
plus i'm posting pictures of yummy food. what's not to like about that?
if i am going to be honest, i think i have a pretty positive self image. i'm not all high and mighty - i definitely have some places that need improvement (hence the jiggly parts) but i'm not sitting around, moaning and crying about being fat or anything.
not all the time anyways. i have my moments. i'm not 100% secure in my bathing suit. i look at other women and wonder why i don't have a flat stomach and a toned booty.
and then i go on munching on potato chips and drinking a dr. pepper.
i dress in ways that i know flatters my good parts and hides my bad parts. and i get that most likely, i will never be as fit and toned as all the women i see on pinterest. and i'm okay with that. all the stuff i am about to tell you isn't about me gaining the perfect body or being the envy of all.
it is about health. my health. my husband's health. these are the things that are important to me.
i come from a long line of women with heart disease and men with diabetes. my maternal grandmother suffered from several heart attacks. my mom, maternal grandfather, and half-uncle all dropped dead in an instant from a fatal heart attack. my father and maternal grandfather both have some form of diabetes. high cholesterol, high blood pressure, high stress... all of these things have plagued my family for years.
you would think this would be enough motivation to get with the program, eat healthy and take better care of my body, right? not so much.
enter
lauren from texas
(better known probably as
LfT
;]). i have been following her blog for a while - she is quite funny, stylish, and beautiful to boot. not someone you would consider to be worrying about her body. but she wrote a post about a
cardboard box of clothes
she has. and it put my lifestyle in a new perspective. i decided what the heck - i will give this idea a try.
you can join in with us by using the hashtag #cbdiet on instagram or twitter. we are using myfitnesspal to track calories (available for android and iphone). plus, lauren is hosting a weekly linky to share our recaps.
WEEK ONE
weigh in:
starting weight 171.5
weight july 5: 168
HOLY CRAP I LOST 3.5 POUNDS!!! I was NOT expecting that!!
exercise completed
walked 4 miles (burned 381 calories)
cleaned for an hour (burned 194 calories)
90 minutes of yardwork (burned 294 calories)
splurge/guilty pleasure
beer. it was july 4th! so that is what my splurge was - i had a few beers. and i didn't track them. :]
success stories
1. learning that i like fruit.
i just have to add fruit to my food and not eat it alone. strawberries - yuck! strawberries on toast with nutella? gimme. blueberries - yuck! blueberries on my yogurt and granola for breakfast? nom. this is a breakthrough for me!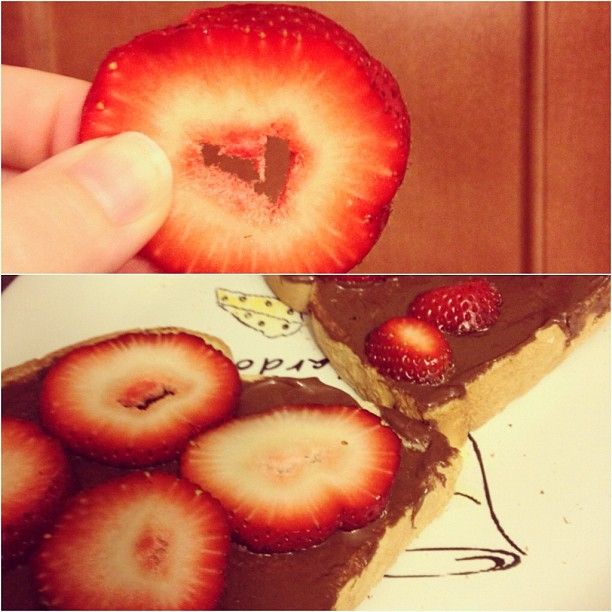 1 slice wonder whole grain white wheat (toasted)
+ 1 tsp nutella
+ sliced strawberry
272 calories of creamy, yummy snack after a walk
1 container of plain oikos greek fat free yogurt
+ 1/2 cup food club natural granola cereal
+ 1 tbsp thrifty bee natural honey
+ 1/3 cup blueberries
398 calorie filling, fruity, delicious breakfast
2.
learning that tracking what i eat is good for me!
tracking helps me plan. i started tracking as i went but i figured out quickly that if i plan my meals for the day and track them first thing in the morning, i know exactly (roughly - i don't think you can ever know exactly) how many calories i'm planning on consuming. it was like a light bulb went off! :) also - i'm WAY less likely to splurge if i know i have to record it and fess up to you folks. :)
first day of tracking
3.
having my husband on board!
(more on that in a second though)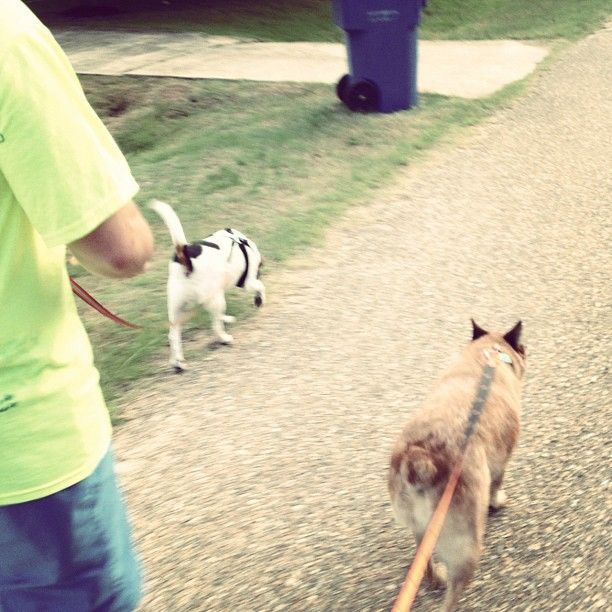 walking with the hubs and dogs
photos
salad from quiznos - see above for calorie count
it felt goooood to walk. hopefully i will build up to running again too. but just to sweat and get my muscles moving felt amazing.
homemade salad! romaine, mushrooms, carrots, celery, cucumber, tortilla strips, hot sauce, southwestern chicken and walden farms creamy bacon. (all for 208 calories)
about the hubs
i can't believe that my husband is ALSO on board with me for this. he doesn't exactly know about the cardboard box diet (although, now he most likely has been clued in. hi honey!). anyways - he signed up for his first half marathon in december. so he has started training for that (he even has this fancy watch/heart monitor/gps thingy) and i could not be MORE proud of him.
he even put myfitnesspal on his phone and has been tracking his calories! can i get a woot woot for my hubby??? ;}
so not only do i have the support of the internets but i also have some on the homefront as well. i'm stoked to be doing this with YOU GUYS and with HIM.
here is to a successful week two!