the cardboard box diet - week 2
{week one here}
this week was interesting - i started to notice very tiny changes in my body, physically, emotionally, and psychologically.
1. i definitely don't "look" any smaller and i'm not taking measurements so i can't be sure. but i feel better. i'm standing up a little bit taller. i feel like i don't have to suck in as much. feeling better about myself is one of the goals and i'm beginning to be on my way!
2. i've started to notice when i'm really hungry. not bored or sad or, well, mostly just bored. boredom is a huge trigger for me. so it has helped that i have been crazy busy this week! but i've made that connection and now i can be wary of that "hungry" feeling when i have nothing else to do.
3. i've stopped to think about how eating certain foods will make me feel. will i feel better about myself if i have a piece of reese's peanut butter pie (which i REALLY REALLY WANTED) or a skinny cow chocolate snack? i'm not going to lie - i had two bites of pie but i reallllly enjoyed them (i guess i could be totally awkward and say that i quite literally made love to the bites...) and then i had some skinny cow chocolate. and i didn't feel like i had undone an entire day of eating right!
you can join in with us by using the hashtag #cbdiet on instagram or twitter. we are using myfitnesspal to track calories (available for android and iphone). plus, lauren is hosting a
weekly linky
to share our recaps.
WEEK TWO
weigh in:
starting weight 171.5
weight july 5: 168
weight july 12: 165
okay i kind of WAS expecting to lose a pound or two this week because i was really careful about what i ate. but three pounds was exciting!
exercise completed
i walked one day this week - it has rained nearly every day! :(
splurge/guilty pleasure
so let's talk about
saturday
. for starters my husband was out of town. i never do really well when chris isn't here. it is like if no one sees me eat it it never happened. secondly, i was busy all day, painting and packaging signs. so i didn't "have time" to cook something healthy. and third. zaxby's just opened and i have been dying to eat there. so i did. twice. :/ not the healthiest of choices by far but i did it, confessed, got over it, and moved on.
success stories
sunday night we had a welcome party for our new pastor at the church. i was already dangerously close to my calories for the day (taco bell on sunday is kind of a tradition but i had a cantina bowl - delicious FYI) and all they were serving was desserts. cakes, pies, cookies, cupcakes & brownies. i can do without the first four but the brownies? yum. HOWEVER, i immediately had a cup of coffee to get something in my stomach, and i didn't touch any of them. then i had two bites of pie (see above) when we got home.
photos
my new favorite breakfast - fried egg, bacon, and cheese sandwich with strawberries. (362 calories)
recipe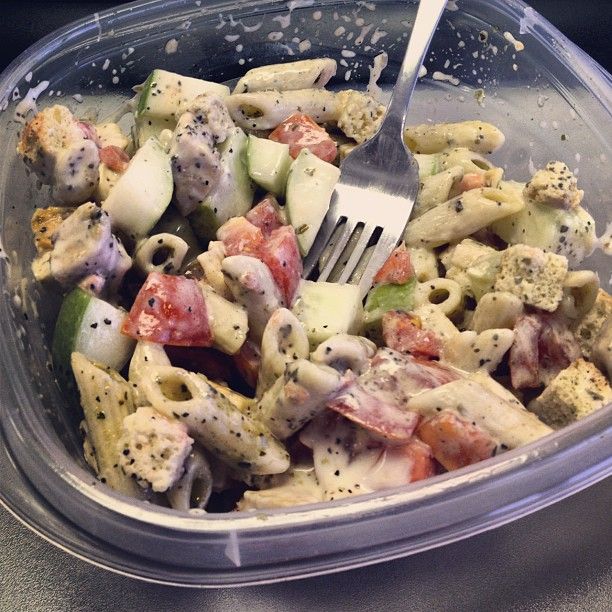 basil pasta salad
.8 cup suddenly salad basil pasta salad, prepared
1 tomato, diced
1/2 cucumber, diced
1 1/2 ounces grilled chicken, chopped
2 TBSP rothbury farms FF croutons
4 TBSP walden farms creamy bacon
this was filling, creamy and delicious. i will definitely be making it again!
about the hubs
chris doesn't seem as deterred by the rain as i do and he has run maybe four days this week? he has also been tracking his calories and making better decisions about what he eats and i am SO PROUD OF HIM. he has lost four pounds!
ARE YOU READING THIS CHRIS? I AM SO PROUD OF YOU! PAT YOURSELF ON THE BACK!!
so not only do i have the support of the internets but i also have some on the homefront as well. i'm stoked to be doing this with YOU GUYS and with HIM.
here is to a successful week three!