rotel + stoby's white cheese dip chicken casserole
having a meal plan really makes my life much simpler but there are time when i just get way off track and it is hard for me to reign it all back in and get back to the calendar. when i don't have a plan, i know i don't want to have to mess with coming up with something for dinner and that is when chris and i will generally make a run for the border.
then there are times (like around the first of the month when i know bills must be paid and our investment in taco bell doesn't really bring any sort of return that will help us) that i know we must eat at home and i need to just do something, plan or no plan. this is one of those recipes that was born totally of this necessity.
you know - necessity was the mother of invention, right?
when i have no idea what to cook for dinner, i throw three frozen chicken breasts in the crock pot with some chopped onion and shredded carrot, season it with salt and pepper, throw in a splash of chicken stock and set it on low. then i have all day to dream about what i will be doing with it when i get home.
i happened upon a recipe for
sour cream rice bake
a few weeks ago and bookmarked it because it looked delicious. this recipe is an adaptation of that using what i had on hand.
rotel + stoby's white cheese dip chicken casserole
i have a slight love affair with stoby's white cheese dip AND rotel. i mean they are both amazing.
so anyways here is what i did:
cook your chicken in the slow cooker on low for 8 hours as described above. (three frozen chicken breasts in a crockpot, chopped onion, shredded carrot, salt, pepper + splash of broth.) use your mixer to shred the chicken or shred with two forks. set aside.
1. prepare 1 1/2 - 2 cups of rice (i used minute white rice - we fancy folks). spread in the bottom of your baking dish.
2. warm your stoby's white cheese dip in the microwave (i used about a half a container because it is what i had left but i would have used a whole one if i had it on hand). spread it carefully over the rice.
3. combine your shredded chicken with a can of rotel tomatoes or a can of
rotel sauce
(or both if you're extra crazy) and i threw in some frozen corn. i seasoned with a little cumin and smoked paprika because i enjoy that extra kick. spread the chicken mixture over the rice and cheese dip.
4. and let's face it. everything is better with cheddar right? smother it with cheese.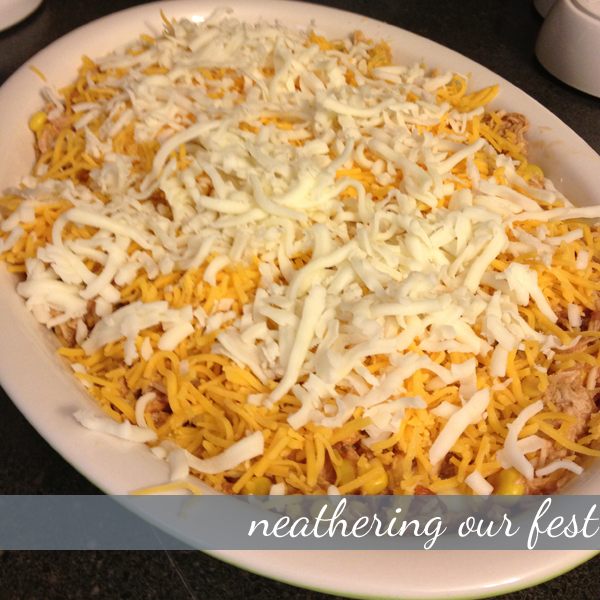 bake it at 350 for 20-30 minutes until the cheese is bubbly and the sauces have all had time to intermingle and get to know each other.
and in honor of me, scarf it down before you take a picture of it. we ate it with chips and salsa and it was yummy yummy!
have you tried the new rotel sauce? i found some in the grocery store and couldn't wait to put it to use! i think my next adventure will be with some sort of mexican pizza. yum!