one of the principles that rev. adam hamilton introduced to me in one of his sessions was the idea of a pyramid applied to any amount of people.
(did all that just sound like a bunch of garble? read the
post on leadership
first then come back! ;)
in the example he gave, he applied it to his congregation and called it the discipleship pyramid. basically his congregation (and most congregations in churches) fall into specific percentages based on their relationship with God: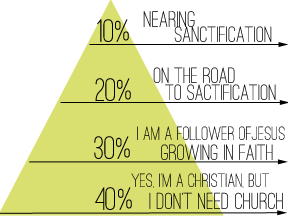 (for clarification - i'm in that 30%)
he used this "model" to figure out his sermon series - what he would preach about and how he could interject things into a sermon that would reach out to the entire pyramid population. pretty cool huh?
i was all inspired by his talks and immediately starting applying this to my blog and business. today we will just talk blog though. i want to tackle the business side in another post.
take the number of followers you have (however you measure followers is okeydokey with me!) and apply it to this pyramid.
so - i have 196 GFC followers.
20 of them are engaged readers (read + comment every post)
40 of them are loyal readers (read + comment sometimes)
58 of them are occasional readers (read when they get a chance)
78 of them are fairweather fans (read when something's in it for them)
that seems about right, doesn't it? does it work out that way for you?
i don't really care where people fall in to be honest and maybe some people shift in and out of categories. i feel like for most blogs i fall in that "loyal readers" category. i read them religiously but i rarely comment. and i should change that.
but anyways - the point i'm making is that in a way, to become a successful blogger, you need to craft posts that reach each segment of the follower pyramid. i will probably never reach each and every follower with one post (if you know how though - please fill the rest of us in)!!
next go round i will share the way rev. hamilton crafts his sermons to do this. and then we can talk about how to apply that to our blogs. sounds like fun, right?
so how do you craft a blog post that can reach people in so many different places in their lives? that is my question to you - share with us how you write your posts. do you tell a story and then reveal the lesson? do you give out instructions or perhaps keep it light and funny? what part of you do you interject into your blog in order to reach all of your followers?