what makes a good custom sign? wedding gift edition
i have really had a lot of fun working with customers on custom signs recently! i am amazed at how creative people can be and how i have learned to work with people to create something that they love. my control freak tendencies sometimes make it hard to let go of what i like and focus on what the customer likes, but this business has really helped me with that. after all - it is their sign. ;)
anyways - i have often heard "i'd love to get a sign but i don't know what i'd put on it!." so today marks the beginning of a series discussing some ideas for signs as specific gifts and i'd also love to hear from you - what would you want on a sign? so let's get started, shall we??
wedding gifts
it seems a bit obvious but a custom sign commemorating a couple's wedding is really a unique gift. sure they are going to get lots of things with their new monogram on it, but how often will they really pull out the fine linens and use that tablecloth with their monogram in the corner or the champagne flutes with their names and wedding date on them? if you are me, uhhhh... never?? a pretty bit of artwork will be seen every day and all their friends will get to see it to. instant conversation piece. ;)
i have done several signs as wedding gifts and i love them. it gives me an opportunity to have some quiet time with God and pray over the couple getting married and ask God to bless their union. at first it felt kind of creepy doing that because yeah - i don't know these people. but then i realized that God does and that is what matters, right?
anyways - here are a few good ideas for wedding gifts:
this sign was for my cousin tara and her husband adam. "when boyd meets girl" is a nod to their last name and the url she used for her wedding website. does the couple you have in mind have a cute little saying they share? that would make a great addition to a wedding sign that will make it uniquely theirs! if i were to make one for chris and i, it would say shmily... which stands for see how much i love you.
cue the collective awwwwwwww. ;)
this sign was one of the first ones i painted. it definitely shows how far i've come. but i keep it listed because some people really enjoy the simplicity of it. the first initials and wedding date are a pretty standard go-to for a wedding gift. now i have learned how to customize the font and make it much more elegant looking. but i will always love this sign.
this is a more recent and much improved version of this sign. i finished it last weekend for my sweet cousin, who is getting it for her friends' wedding.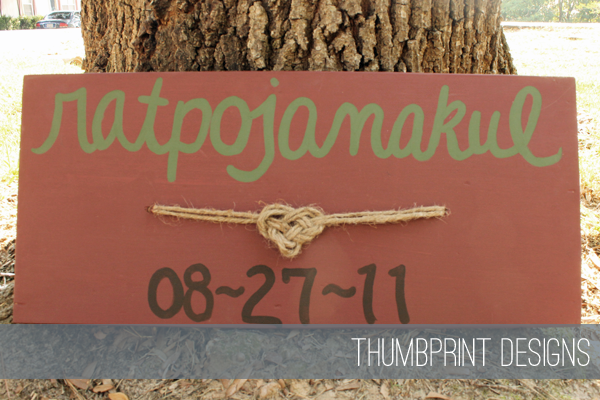 another one of my early signs - this one is one of my favorites! it is the last name and date, obviously, but it has a nice little heart shaped knot that i tied by hand and attached to the sign. tie the knot - i love this sign. it would be a great gift for a nautical themed wedding or a couple that will be living on the beach. (this is where i pretend to not be jealous... ;)
this sign was a collaboration between leanne and me. it was for her sister's wedding and the line is a line from the song they danced their first dance to. this was a great idea and i loved doing it. what a special way to remember not just your wedding but a very special part of your wedding day.
most recently i completed this sign for leanne herself. just a simple reference to their last name and the year they were married. simple, but when done correctly, gorgeous.
a few more ideas for a wedding sign:
the verse read at their wedding
a portion of their handwritten wedding vows
a "welcome to the _________" sign for their front porch
a replica of their wedding invitation
another tip - think back to your wedding and come up with a list of things you would have liked to have artfully composed on a sign to permanently remind you of your wedding? is there a word or phrase that sums up your marriage relationship? is there a bible verse you both love or a line from a movie that you both regularly quote? all of these make great ideas for a sign for a wedding gift!

tell us - if i could make a sign to commemorate your wedding what would it say?