yay! it is monday!
wait - you mean you don't love mondays?
i love mondays. (please don't throw things at me!) they are a fresh start for me and a time for me to take a look at what i've got for the week and feel an invigorating wave of inspiration to get things done. mondays are gooooood yall! :)
say it with me:
mondays
are
goooood
(repeat 10x)
so i have a few new things to share with you for this wonderful monday.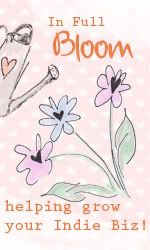 first of all - did you see the amazingness that i
showed you saturday
? kelsey (
poofy cheeks
) and i are teaming up to bring you some of our favorite handmade shops and giving you an opportunity to link your shop up and get your name out there! make sure to link your shop up to saturday's post for some extra (freebie) advertising and please do us the immense honor of sharing the word about our new little series, in full bloom!
because of this awesome new series, i am changing up the way i do my sponsorship. you can read all about the new way of doing things
here
but here is the long and short of it:
i am no longer doing
sponsor shopping
posts. if you are currently on the list to be featured in the sponsor shopping series then you should have already got an email from me.
i will be concentrating on only
sponsor swap ads
and doing it
WELL
. i want to make it worth your while. in the past it has been a bit of a burden and i don't want it to be a burden. i want it to be fun and i want you to see some benefit and growth from it. so there you go.
like i said - click
here
for the full monty.
i have also added a little handy page about some lets-get-to-business stuff i thought it was time to address here. privacy, advertisement, important stuff about me and giveaway rules are what you will find when you click
here
. it is a pretty short + quick read and i urge you to visit just to get the low-down. pretty please? thanks. xoxo
it is going to be a wonderful week yall! can you believe it is almost april? crazy huh?? i've got a fun week ahead - visit back later for a meet-n-greet with my sponsors this month and make sure you check back saturday for sure for the first feature for
in full bloom
!! :)
so - what is one goal you are GOING to accomplish this week? let's hear it!