in full bloom linky party featuring knitted simplicity!
kelsey
and i are thrilled to welcome you to the first post of our new series:
in full bloom: helping grow your indie biz!
the first indie biz feature honors go to my gorgeous friend sarah and her lovely shop
knitted simplicity
who or what encouraged you to start your indie biz?
I have been a stay at home mom for the past few years - out of necessity - because we have a child with special needs. I began my little business as a way to try to contribute something to the family, even if it was just that little extra income to support my knitting hobby!
what is the hardest challenge you have as an indie biz owner?
To me, the hardest part has been getting my name out there. Not just for my business, but blogging in general. There are SO many crafty ladies with shops out there. I am not a "professional" knitter, but offer some simple hand knit goods. Trying to come up with an inventory of things people really want to see is also a challenge.
what is some helpful advice you would offer other indie biz owners?
Look into the product you're offering. Don't overprice things, but try not to sell yourself short either! Offer coupons and try to promote yourself where you can.
what is the ultimate goal you have for your indie biz?
I want to offer quality knit goods to ladies - for themselves or to give as gifts - at an affordable price. I want to have fun doing it too!
hand knit winter headband
Hands down, this headband has been the top seller in my shop. It comes in several colors. As with any item, I'm willing to venture out into other colors if you don't see them listed!
reusable coffee sleeve
I have also had an on-going fundraiser for a friend's adoption fund. $3 from the sale of ANY coffee sleeve is going to her fund.
♥ ♥ ♥

there are many reasons that i love sarah, her shop and beautifully knitted items being one of them for sure. but the main reason i love her is because this girl lets the Holy Spirit move through her blog like no other. she can write some wicked inspirational words in her posts that are so moving and wonderful. you would be remiss to not check out
her blog
too!
thanks sarah for letting me feature your sparkly awesomeness today!

want to join in on the fun?
sign up for the newsletter!
click
here
to sign up for the newsletter to get inside info on the shops we are featuring and upcoming in full bloom news!
link up your shop below!
here the guidelines to linking up your shop! remember that once you link up your shop will appear both here and on
kelsey's blog
too! double the fun!
1. link up shops/shop platforms only. please do not link to a specific item, a blog post about your shop, your blog (unless your shop platform is hosted on your blog) or anything other than your beautiful shop.
2. after you link up, visit two or three of the other shops that have linked up and tweet, pin, or facebook about your favorite item from their shops!
3. if you have a blog and want to help spread the word, feel free to add this button to your sidebar: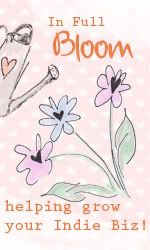 are you linking up your shop?
share the button on your blog!