here in just a few short days (three to be specific and you bet your behind i'm counting them down!) i will be making a road trip to see my aunt kay in georgia! this little trip seems to be becoming an annual thing because my sister-in-law and i made this little excursion last year on labor day as well!

one of the many highlights of the mini-vacay is a trip to IKEA.

the other one is chowing down at the varsity but that deserves an entire post all to itself! :)

in order to keep my wallet in check i went ahead and made a little list of things i need-slash-want from IKEA while i am there. some of these are just dream items because i honestly have nowhere to put them and some are definitely making the trip home with me. let's get down to bidness then, shall we?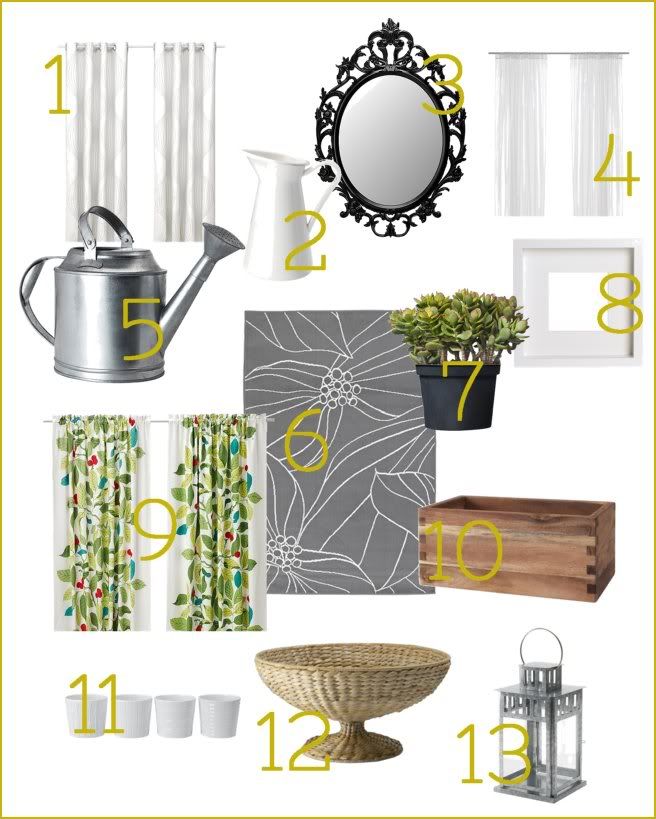 1.
kajsa
- i have been wanting some new curtains for my guest room. these have a great breezy feel but the circles add an interesting texture. these are a "yes, definitely coming home with me" item!
2.
sockerart
- this will become a lovely vase for some fake flowers on my dining room table and will be used year round. another must.
3.
ung drill
- this is definitely a dream item. i love it's curvy ornate frame but it is a little too similar to a mirror i already own (
see here
) that belonged to my grandma. so i think i will stick with what i have but use this one for inspiration. glossy spray paint might be in my future. hmmm.
4.
lill
- these are definitely going in the basket. i want them in my bedroom and my living room (which will make for three sets total) but they are only $4.99 so definitely in the budget.
5.
hosto
- i have been searching for a watering can since i
redid my front porch
back in april. so yeah, i hear it takes most people five months to settle on one. for sures coming home with me.
6.
gislev
- this is a dream item, but only because i don't know if it will fit in the car for the ride home. if it does, you betchya i'm bringing it home. if not, oh well. hopefully on another trip!
7.
crassula
- i need some greenery in my life and i don't own a single succulent. is this a succulent? does anyone know? anyways, regardless of its species-slash-type i love it. if they have some i will be purchasing three or four.
8.
ribba
-
young house love
. do you really need any more inspiration?
9.
ikea stockholm blad
- these are the color inspiration for my living room. i love the shades of green and pops of red and teal. such a fun color palette. these, along with the lill sheers from above, will be framing my living room windows!
10.
bjuron
- to hold my three or four crassula plants (see above)
11.
kardemumma
- i want these to hold trinkets around the house and possibly to use as some small vases on a kitchen tablescape for the winter?
12.
pjas
- this wasn't anywhere near the list but when i ran across it on IKEA's
website
it made it to the list. duh. woven, footed basket in a great neutral color. five please. all over the house. thanks.
13.
borrby
- i already have one of these but it looks pretty lonesome and dumb all by itself. i am going to get another large one and maybe a small one to use in vignettes.
so that is the list. i have no idea what i will actually come home with because you never really know what IKEA will have in stock that day. but you can bet that i will have a full report when i get back home!

what is on your dream IKEA list? spill the beans!