Poppy Seed Fabric Giveaway
I know you know all about Poppy Seed Fabric.
Today, my friends, is the perfect day to find out!
Hop on over to my bloggy friend House of Smith's and learn all about it...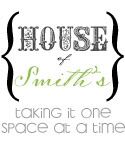 (And while you are there, check out her fun and super-easy
tutorials
.. This girl is a catch-and-a-half!)
And then go on to Poppy Seed Fabrics and see what she has!
I guarantee you will be in LOVE before you get done! :)